Orange Broccoli Beef with Ramen Noodles
Servings:
Prep: 35 minutes
Cook: 10 minutes
Note: When increasing serving size, your prep time and cook time may vary.
For safe meat preparation, reference the USDA website.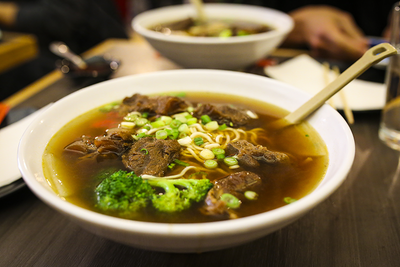 Ingredients
1 ¼

lbs. boneless beef sirloin steak

1

Tbsp. orange marmalade

3

Tbsp. vegetable oil, divided

1/2

lb. broccoli florets (approx. 3 cups)

2

packages of ramen noodles

1

can mandarin oranges, drained
Prep
Cut steak crosswise into 1/4-inch thick strips and place in a large resealable plastic bag. Pour in 1/3 cup of the marinade and turn meat until evenly coated. Marinate in the fridge for 30 minutes or longer for more flavor. When meat is ready, discard any unused marinade.
Combine the remaining 1/2 cup of marinade with the orange marmalade.
Prepare the ramen noodles according to package instructions, omitting the seasoning packet. Set aside.
Heat 1 tablespoon of the oil in a large nonstick skillet over medium-high heat.
Cook
Stir-fry the beef until it starts to brown slightly, about 5 minutes. Remove the meat from the pan using a slotted spoon, add the remaining oil, and cook the broccoli until tender. When the broccoli is ready, add the meat back to the pan along with the marinade and orange marmalade sauce.
Stir until everything is heated through. Plate the meat on top of the ramen noodles and garnish with mandarin oranges. Serve immediately.
More honey teriyaki Recipes
See All