Mushroom Teriyaki Chicken
Servings:
Prep: 30 minutes
Cook: 35 minutes
Note: When increasing serving size, your prep time and cook time may vary.
For safe meat preparation, reference the USDA website.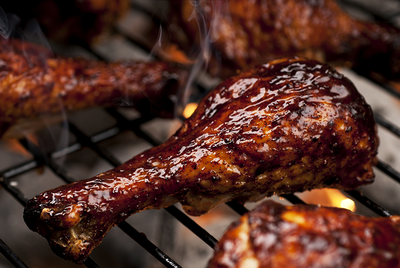 Ingredients
1½

lbs. boneless chicken breasts

2

cups rice

1

Tbsp. butter

1/2

lb. sliced mushrooms
Prep
Reserve 1/2 cup of the KC Masterpiece® marinade, set aside.
Arrange the chicken in a medium size bowl or resealable plastic container and pour in the remaining marinade. Turn meat until evenly coated, cover, and marinate in the fridge for 30 minutes or up to 12 hours for more flavor. When the chicken is done, discard any leftover marinade.
Prepare rice according to package instructions.
Preheat the oven to 350ºF. Heat the butter in a medium size skillet or frying pan over medium heat.
Cook
Sauté the mushrooms in the butter until most of the liquid is evaporated. While the mushrooms are cooking, arrange the chicken in a single layer in a large baking dish. When the mushrooms are done, stir in the reserved Honey Teriyaki marinade and pour the mixture over the chicken.
Bake for 35 minutes until cooked through. Make sure the meat reaches an internal temperature of at least 165ºF.
Serve immediately over top the hot cooked rice.
Recipe created by KC Masterpiece® on behalf of KC Masterpiece® barbecue sauce.
More honey teriyaki Recipes
See All