Kansas City Classic Ribs
Servings:
Prep: 2 minutes
Cook: 4 minutes
Note: When increasing serving size, your prep time and cook time may vary.
For safe meat preparation, reference the USDA website.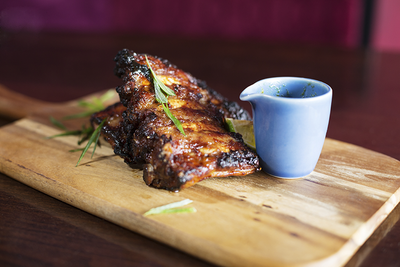 Ingredients
1/3

cup soy sayce

2

Tbsp. sesame oil

1

tsp. garlic powder

1

tsp. powdered ginger

1

cup white or apple cider vinegar

2

racks of pork loin ribs (approx. 2 lbs. each)
Prep
In a large mixing bowl, combine the soy sauce, sesame oil, garlic powder, powdered ginger, KC Masterpiece® sauce, vinegar and olive oil.
Arrange the ribs in a large resealable plastic container or bag. Pour in the marinade, cover/seal, and marinate in the fridge for 2 hours, or overnight for more flavor. When the meat is ready, discard any leftover marinade
Prepare a charcoal grill for direct and indirect cooking by arranging the coals on one half of the grill.
Cook
Place ribs on the grill, bone side down, over the direct heat. Cover and cook for 6-8 minutes. Flip the ribs, cover, and cook for 6-8 more minutes. Repeat the process until the meat is cooked through and has reached an internal temperature of at least 145ºF.
When the ribs are done, move the meat to the indirect head and brush with additional KC Masterpiece® sauce. Cover and cook for another 6-8 minutes. Once the sauce starts to caramelize, remove the ribs from the grill and cover with butcher paper or aluminum foil and let the meat rest for 10-15 minutes.
Slice the ribs into individual portions and serve.
Recipe created by Ardie Davis on behalf of KC Masterpiece® barbecue sauce.