Easy Slow Cooker Smoky BBQ Ribs
Servings:
Prep: 10 minutes
Cook: 9 minutes
Note: When increasing serving size, your prep time and cook time may vary.
For safe meat preparation, reference the USDA website.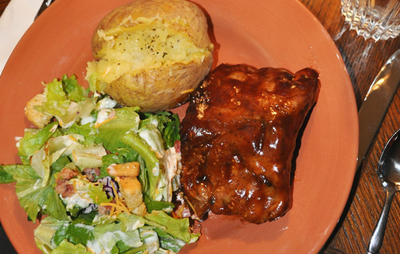 Ingredients
3 ½

lbs. pork loin baby back ribs

1

yellow onion, chopped

2

cloves of garlic

1/4

cup brown sugar

1/2

tsp. pepper

3

Tbsp. liquid smoke

1

tsp. salt

1/2

cup Coke soda
Prep
Cut the ribs into single serving portions (about 4-6 inches, each). Slice the onions and crush the garlic.
In a large mixing bowl, combine the garlic, brown sugar, pepper, liquid smoke, and salt. Rub the mixture onto the ribs then layer the meat and onions in the slow cooker.
Cook
Pour the coke over the ribs and cook on low for 8-9 hours, or on low for 4-5 hours. Make sure the meat reaches an internal temperature of at least 145ºF. When the meat is done, remove from the Slow cooker and discard any leftover liquid.
Pour the KC Masterpiece® sauce into a large mixing bowl. Toss the ribs in the sauce until evenly coated then place back into the Slow cooker along with any leftover barbecue sauce. Cook on low for 1 more hour.
Serve immediately.
Recipe created by Laugh With Us Blog on behalf of KC Masterpiece® barbecue sauce.