Classic Chicken Sliders
Servings:
Prep: 25 minutes
Cook: 10 minutes
Note: When increasing serving size, your prep time and cook time may vary.
For safe meat preparation, reference the USDA website.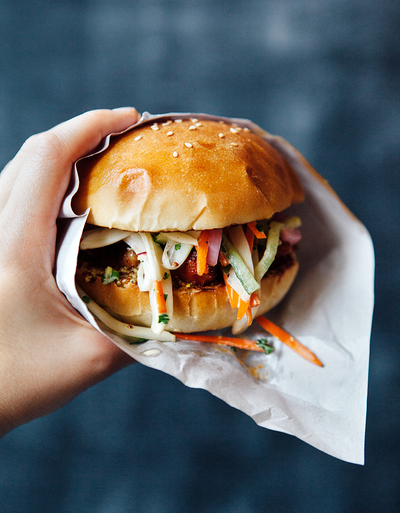 Ingredients
Spicy Pickles:
16

oz. dill pickle chips

1

cup sugar

1

tsp. red pepper flakes

1/8

tsp. hot sauce

2

garlic cloves, minced
Chicken :
2

lbs. chicken breasts, cut into smaller portions (whatever fits best on the bun)

1

package of sliced dinner rolls
toothpicks
Dry Rub :
1 ½

tsp. onion salt

2

tsp. sugar

1 ½

garlic powder

1

tsp. black pepper

1/2

tsp. chili powder

1/2

tsp. cumin

1/2

tsp. coriander
Prep
Prepare a charcoal grill for direct cooking over medium-high heat.
For the pickles: Drain and place the pickles in a large mixing bowl (keep the jar). In the jar, add the sugar, red pepper flakes, hot sauce and garlic. Stir and let stand until the sugar dissolves. Put the pickles back into the jar and refrigerate until needed.
In a large mixing bowl, combine the onion salt, sugar, garlic powder, pepper, chili pepper, cumin and coriander. Use the mixture to season the chicken on all sides.
Warm up the KC Masterpiece® sauce in a medium-size saucepan over low heat.
Cook
Grill the chicken until cooked through, about 3 minutes per side. Make sure the center is no longer pink and an internal temperature of at least 165ºF has been reached.
When the chicken is ready, remove from the grill and place into the large frying pan with the warmed sauce. Stir until chicken is evenly coated.
Scoop the chicken onto the dinner rolls and top with pickles. Spear with a toothpick and serve.