Easy BBQ Chicken Nachos
Servings:
Prep: 5 minutes
Cook: 20 minutes
Note: When increasing serving size, your prep time and cook time may vary.
For safe meat preparation, reference the USDA website.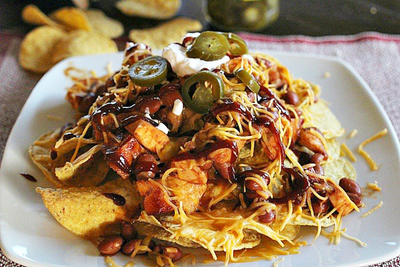 Ingredients
1 ½

cups cubed grilled chicken (either leftover or prepared beforehand)

1

can diced chilies, drained

1

can ranch style beans, drained

1

bag tortilla chips

1

cup sharp cheddar cheese, shredded

1/4

cup sour cream
sliced jalapeños (for garnish)
Prep
Preheat oven to broil (approx. 400ºF.)
Heat oil in a medium size skillet over medium-low heat.
Cook
Cook the chicken, chilies, beans and 1 cup of the KC Masterpiece® sauce in the skillet until warmed through, about 5-7 minutes.
Spread the tortilla chips evenly in the bottom of a large baking dish. Layer the chicken mixture over the chips and top with cheese and the remaining barbecue sauce.
Place under the broiler until the cheese is melted and starts to brown.
Garnish with sour cream and jalapeños (if desired). Serve immediately.
Recipe created by Penny Lane on behalf of KC Masterpiece® barbecue sauce.