Kansas City Style Oven Roasted BBQ Chicken
Servings:
Prep: 5 mins
Cook: 45 mins
Note: When increasing serving size, your prep time and cook time may vary.
For safe meat preparation, reference the USDA website.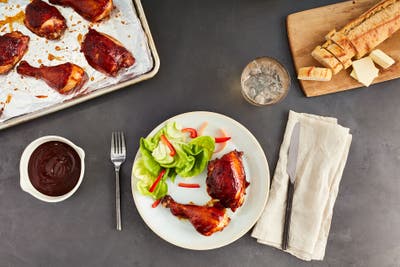 Ingredients
8-10

chicken thighs and/or drumsticks, skin on

1

tablespoon olive oil
Salt and pepper, to taste
Preheat oven to 375°F. Rinse chicken under cold water then pat dry with paper towels. Season generously with salt and pepper.
Line a baking sheet with aluminum foil or parchment paper. Combine olive oil and 1 cup of KC Masterpiece® barbecue sauce in a medium bowl. Toss chicken to coat with sauce, and then place skin-side down on baking sheet.
Bake chicken in the oven for approximately 25–30 minutes then flip over, being careful not to break the skin. Baste with additional barbecue sauce and place back in the oven for another 10 minutes until chicken is cooked through. Remove from the oven and serve warm with any remaining barbecue sauce.