Central Coast Pulled Pork Delight
Servings:
Prep: 20 minutes
Cook: 8 minutes
Note: When increasing serving size, your prep time and cook time may vary.
For safe meat preparation, reference the USDA website.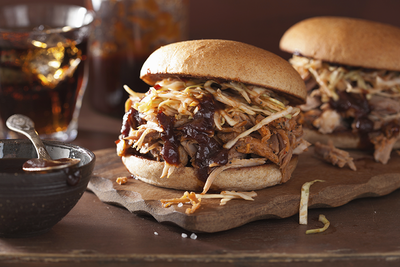 Ingredients
1

pork tri-tip (4-5 lbs.)

2

qts. water

1

cup molasses

2/3

cup salt

1

tsp. onion powder

1

tsp. garlic powder

1

tsp. pepper

4-6

sandwich buns or sweet dinner rolls
Prep
In a large mixing bowl, combine the water, molasses and salt until salt is dissolved. Place the pork tri-tip is a large, resealable plastic bag and pour in the liquid and shake until meat is evenly covered. Remove extra air, seal the back, and marinate in the fridge for 12 hours, or up to 24 hours for more flavor.
Preheat oven to 225ºF.
When the pork is ready, remove from the bag and pat dry with a paper towel. Discard any leftover marinade. Place the meat in a roasting pan and sprinkle evenly with onion powder, garlic powder and pepper.
Cook
Cook the pork for 7-8 hours. Make sure it reaches an internal temperature of at least 145ºF. Remove from the oven and let it cool slightly. Use 2 forks to pull the meat apart and then fold in the KC Masterpiece® sauce.
Spoon the pork onto hamburger buns or sweet dinner rolls and serve immediately.