Baked Beans
Servings:
Prep: 10 minutes
Cook: 30 minutes
Note: When increasing serving size, your prep time and cook time may vary.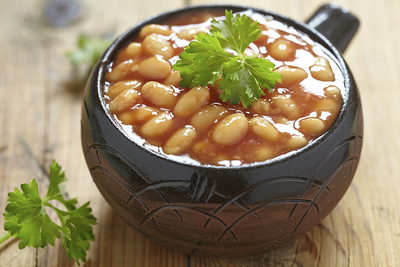 Ingredients
1/2

yellow onion, diced (approx. 1/4 cup)

1

green bell pepper, diced (approx. 1/4 cup)

4

bacon slices

2

cans white beans, drained and rinsed
Prep
Dice the onion and green bell pepper.
Cook bacon in a medium skillet over medium-high heat until crisp. Drain on paper towels, dice, and set aside. Sauté the onion and bell pepper in the same pan (utilizing the leftover bacon grease).
Preheat oven to 350ºF
Cook
In a large mixing bowl, combine the onions, bell pepper, bacon and white beans. Fold in the KC Masterpiece® sauce until everything is evenly coated. Transfer the mixture to a 1-quart casserole dish and cook for 20-30 minuets.