BBQ Chicken Baked Potato Boats
Servings:
Prep: 10 mins
Cook: 10 mins
Note: When increasing serving size, your prep time and cook time may vary.
For safe meat preparation, reference the USDA website.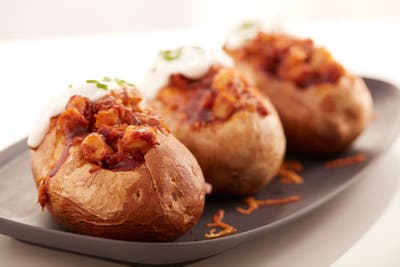 Ingredients
4

large potatoes, baked

2

cups grilled chicken breasts, cubed

1

cup shredded cheddar cheese

¼

cup sour cream
Chopped chives or green onions for garnish
Preheat oven to 400°F. Scoop out flesh of potatoes (enough to make a "boat" in the center).
In a medium bowl, toss chicken cubes with KC Masterpiece® barbecue sauce and cheese. Scoop mixture onto centers of potatoes and bake for approximately 10 minutes, until cheese has melted.
Finish potatoes by topping with a spoonful of sour cream and sprinkling more cheddar cheese if desired. Garnish with chives or green onions. Serve warm and enjoy the boat ride!