Classic Steak with Bleu Cheese Chive Butter
Servings:
Prep: 35 minutes
Cook: 10 minutes
Note: When increasing serving size, your prep time and cook time may vary.
For safe meat preparation, reference the USDA website.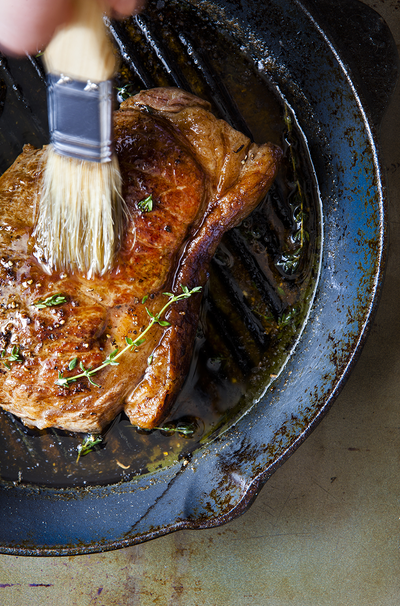 Ingredients
4

6 oz. steaks

1/2

cup bleu cheese, crumbled

1/2

stick butter, softened

2

Tbsp. minced chives
Prep
Arrange the steak in a shallow dish or resealable plastic container. Pour in 1 cup of the Steakhouse Marinade and turn meat until evenly coated. Cover and marinate in the fridge for 30 minutes, or longer for more flavor. When the meat is ready discard any unused marinade.
For the butter: in a medium-size mixing bowl, combine the bleu cheese, butter and chives; stir until combined. Refrigerate until ready to serve.
Prepare a grill for direct cooking over medium-high heat.
Cook
Cook the meat to desired doneness, about 4-7 minutes per side. Make sure meat reaches an internal temperature of at least 145ºF. Remove from the grill and let the meat rest for 5 minutes.
Plate the steak and top with a tablespoon of fresh Steakhouse Marinade and a dollop of the butter. Serve immediately.