Caribbean Island Chicken
Servings:
Prep: 10 minutes
Cook: 25 minutes
Note: When increasing serving size, your prep time and cook time may vary.
For safe meat preparation, reference the USDA website.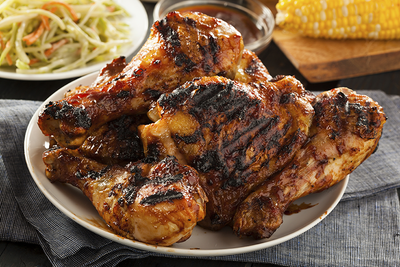 Ingredients
1/3

cup frozen pineapple juice concentrate, diluted with 1/3 cup water

4-6

boneless chicken breasts

1½

cups rice

1

can black beans, drained and rinsed

1

can corn, drained

1

red bell pepper, diced

1/2

cup peeled and diced cucumber
Prep
In a medium mixing bowl, combine 1/3 cup of the Caribbean Jerk marinade with the pineapple juice. Cover and place in the fridge.
Arrange the chicken in a shallow dish or resealable plastic container. Pour the remaining Caribbean Jerk marinade over top and turn meat until evenly coated. Cover and marinate in the fridge for 30 minutes, or up to 24 hours for more flavor. When chicken is ready, discard any unused marinade.
Prepare rice according to package instructions.
Preheat your oven to broil.
Cook
Cook the chicken under the broiler until meat is cook through and browned on both sides, about 20 minutes. Make sure the chicken reaches an internal temperature of at least 160ºF. When the chicken is done, slice diagonally into 1-inch strips.
In a large mixing bowl, combine the cooked rice, black beans, bell pepper and cucumber.
In a medium size saucepan, simmer the reserved marinade and pineapple juice mixture over medium heat. Stirring occasionally, cook until the sauce reduces slightly, about 5 minutes.
Plate the chicken on top of the rice and bean mixture. Drizzle warm sauce over top and serve immediately.
Recipe created by KC Masterpiece® on behalf of KC Masterpiece® barbecue sauce.
More caribbean jerk Recipes
See All